I have a sweet friend who was so kind and brought over some bags of fabric! She has great taste and I am so thankful to have some fabulous fabric to make some projects with. When I saw this yellow fabric from her stash, I knew what I wanted to make with it, a super easy reversible table runner! I already had the green fabric and both colors go great with the colors in our home!
So of course, I got to work! I first cut out two pieces of fabric that are 44 inches x 18 inches. If you want to make one for yourself, just change the measurements until it fits how you want it to on your table. Ironing at this point would probably be a good idea. It would have cut down on the wrinkles I got in the end! 🙂
I put the right sides together and sewed around the edge with about a 5/8 inch seam leaving a 4 inch opening to be able to turn it right side out.
Then I cut the corners and turned it right side out. I ironed it and made sure the corners were nice and square.
Then I top stitched around the whole thing, making sure to close the place that I left open for turning it right side out.
Then I ironed it again and set it on the table. It is lovely! A great addition to our dining table!
And it's reversible! I can change it whenever my mood changes!
Have a lovely day!
Featured On: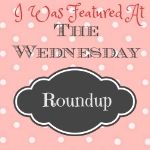 Shared On: